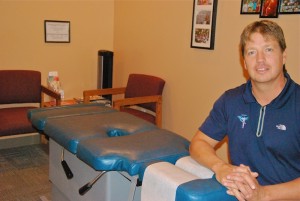 ABOUT US/SERVICES
A graduate of The Canadian Memorial Chiropractic College in Toronto, Dr. John Boruta has practised in Kelowna since 1992.
He is a member of the BC Chiropractic Association, The Canadian Chiropractic Association, The College of Chiropractors of BC, and The Canadian Chiropractic Protective Association, all in good standing.
Actively involved in many activities; camping, biking, skiing, quading, weight training and tennis.
In 1996, he established The Kelowna Chiropractic Centre with Massage Therapy.
His wife of 30 years Linda, has a BCIT business degree(1991) and manages the office with Lisa Lang(>10 yrs.), both working 2-3 days a week.
Linda and John have two beautiful girls, Megan and Lindsey who turn 22 & 19 respectively in 2019.  Megan will be soon be working the front desk on Saturday mornings.                                                                               
Chiropractic Services
Dr Boruta utilizes diversified chiropractic treatment including both firm and gentle methods. Emphasis is placed on manual trigger point therapy, followed by traditional spinal/extremity adjustments/stretches. Adjunctive therapies include Shockwave Therapy, myofascial release, low volt electrotherapy and impulse adjusting using the Arthrostim(aka Accustim) device. Nutritional and exercise counselling is provided upon request.
Dr. Boruta affiliates with numerous health practitioners and promptly provides medical, massage,  physio, acupuncture, orthotic, fitness and naturopathy referral when needed.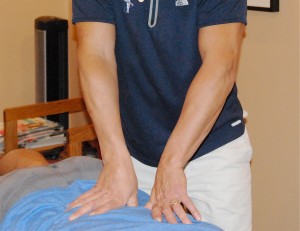 MASSAGE THERAPY
Jack Jurus, R.M.T. is our full time massage therapist who has been with us since 1994 and has over 30 years experience in the health care industry.
Common Conditions 
Below is a list of common conditions which respond well to our care.
Headaches
Sciatica
Tinnitus
Vertigo
****We also accept WCB/ICBC claims and are part of the ICBC lump sum payment program so you aren't burdened with paying out of pocket for insured services.****